RFS Service on the Derivatives Market 
RFS (Request for Stream) quotation system is the new execution venue for block trading on the MOEX's derivatives market available for all instruments.
There are two sides of RFS auctions: a liquidity consumer sending a request for RFS quotations and liquidity providers submitting RFS quotations within the volume specified in the request.
The minimum volume1 of the request is set depending on the underlying asset. Partial execution is not acceptable, an entire order executes at a single price.
There is no market impact, the order is executed outside the order book.
RFS quotations may the better than quotes in the order book. Liquidity consumer receives the best quotation in the stream.
Funds are not blocked until the RFS quotation is confirmed. There is no fee for requests for RFS quotations.
Requests for RFS quotation and RFS quotations are anonymous: the information about liquidity providers is not disclosed to the liquidity consumer, the information about the liquidity consumer is not disclosed to liquidity providers; liquidity providers are not able to view other quotes submitted.
Liquidity consumer may not disclose the direction of trade in the request for RFS quotation.
Trades are executed with the central counterparty
RFS Service is provided to all Derivatives Market participants 
All trading members and their clients can initiate streams as liquidity consumers. In order to become a liquidity provider and receive notifications about RFS auctions, it is required to submit the application to the Exchange by email.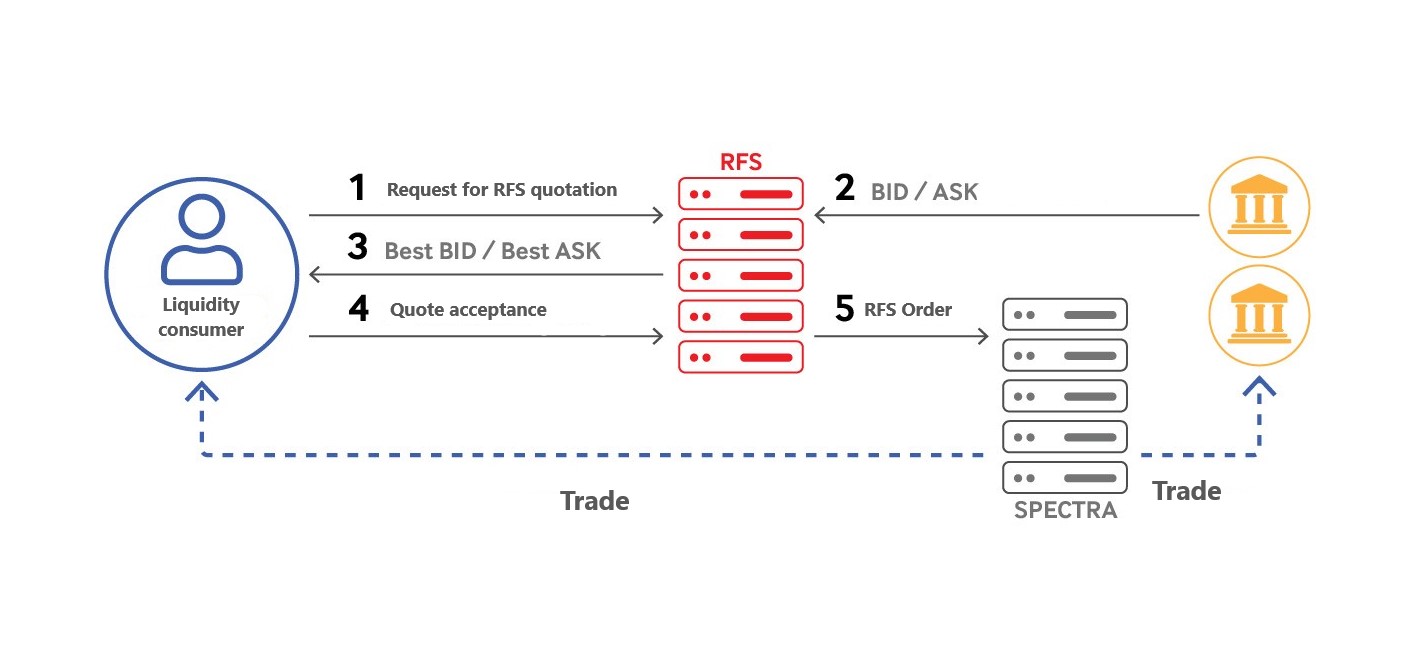 1
2
3
Request for RFS quotation
RFS quotations submission
RFS quotations confirmation
Liquidity consumer submits a request with the contract code, volume, direction (buy and/or sell), auction duration.
Liquidity providers send RFS quotations with the requested volume.
Liquidity consumer gets the best quote.
Liquidity consumer accepts the quotation.
If collateral requirements are met, the trade will be executed.
Liquidity consumer sets the RFS auction duration and may terminate it earlier.
Liquidity providers can move and cancel quotations, but it is not possible to cancel the RFS quotation and move the bid price lower or the ask price higher during the minimum lifetime of the RFS quotation established in the request (speed bump).
Liquidity provider may specify the RFS quotation lifetime during the auction.
When the liquidity consumer accepts the RFS quotation, the liquidity provider has 30 seconds to confirm it (last look) or it will be confirmed immediately if the automatic confirmation of the RFS quotation is set in the request for RFS quotation and/or in the RFS quotation
Source: Moscow Exchange
1 Minimum volume of the request for RFS quotation established by the Exchange
| Underlying Asset | Volume in Contracts |
| --- | --- |
| USD/RUB Exchange Rate | 1500 |
| RTS Index | 1000 |
| Brent oil | 3000 |
| Sberbank ordinary shares | 3000 |
| Other | 500 |